From our friends at Safe Seattle:
Safe Seattle community member Bob MacDonald writes that he witnessed and intervened in an attack on a woman in Gasworks Park this morning, at about 8 AM. This incident has been reported to the Seattle Police Department.
MacDonald saw a young woman entering the grassy area on the west side of the park from Northlake Way. She was walking through the area when she was accosted by a shirtless and shoeless man who was acting erratically, as if he were under the influence of drugs. As MacDonald says:
"I was about 20 yards away when I first began observing this incident. The attacker appeared to be trying to steal the woman's backpack. When she wouldn't let go, he pulled her closer and then grabbed her around the waist with both arms and tackled her to the ground. He then pinned her down and threatened her with some kind of object or weapon. I couldn't see what it was.
At this point an employee of a rental bike company who'd been loading bikes onto a truck approached me and asked if anyone was going to call 911. He said, 'I don't think they know each other.' Then he left.
I called 911 and continued to observe. A man from the Parks Department drove a white pickup truck out to the middle of the grassy area where the attacker and victim were struggling, and this caused the attacker to break off and confront the Parks guy, who had gotten out of his truck. I think the craziness of the assailant took the Parks guy off guard because he retreated back into his truck and left.
The attacker then went back to the victim and began shouting at her, swinging the backpack he was carrying and grabbing at her. He did this for about five minutes while I followed and talked to 911. He physically attacked her again in the grassy area to the east of the parking lot and I intervened and drew him away. A couple witnesses shouted for her to run and find some people to be around, but instead she went east out of the park and followed the trail along Northlake Way where it leads into some overgrown brush.
The attacker followed her back in there, and I didn't want to pursue him at first because of the chance he'd corner me. But the 911 dispatcher told me the police were still two minutes away, and I didn't want to let the victim out of my sight, so I decided to go down that path after them. When I found them, the attacker had the woman on the ground, just out of sight of the road. And now he was actually hitting her in the head. She started screaming as I approached. When I was about five feet away, the attacker noticed me and jumped up and came at me, trying to threaten me. I stepped around him and got between them and told the woman to go back into the park and find some people to help, which she did. The last time I saw her, she was running over the grassy hills to the east of the parking lot headed back into Gasworks Park.
I turned and left the brushy area and the attacker followed me out into the roadway (Northlake), threatening to fight me. I don't think he really wanted to fight someone who would fight back, because at one point I almost threw a punch at him and I think he knew it. I said something like, "She's gone now, dude; it's over," and he realized I was right and just turned around and walked east on Northlake.
He sat down on the curb next to the street and a University cop pulled up and walked over to him. The suspect immediately launched himself at the cop. They struggled briefly and the attacker broke free and fled. The cop caught up with him within one block. The cop deployed his Taser, but it failed. The cop then grabbed him and got him down and at that moment two other University police cars showed up and it took all three cops to get this guy subdued. SPD arrived within minutes and the man was arrested."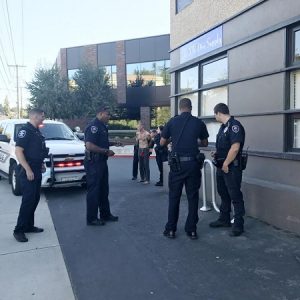 According to MacDonald, the victim left the scene and was being sought by police for questioning. MacDonald reported that he had heard she was located a few blocks away.
The Parks Department employee who intervened left the scene in his truck, and was being sought by police for additional details.
This incident happened in broad daylight at a popular Seattle park. MacDonald told me that several people witnessed the attack at various times during the 10 minutes it was ongoing. He counted six people standing and watching at one point, and he estimated that 20 people in total saw what happened, or parts of what happened. Besides those two individuals and the single Parks Department employee, who intervened briefly and then left the scene, no one else intervened. MacDonald told us that if just one other person had stepped up with him to confront the attacker, the outcome would have been very different.