December 11th, 2018 by Sara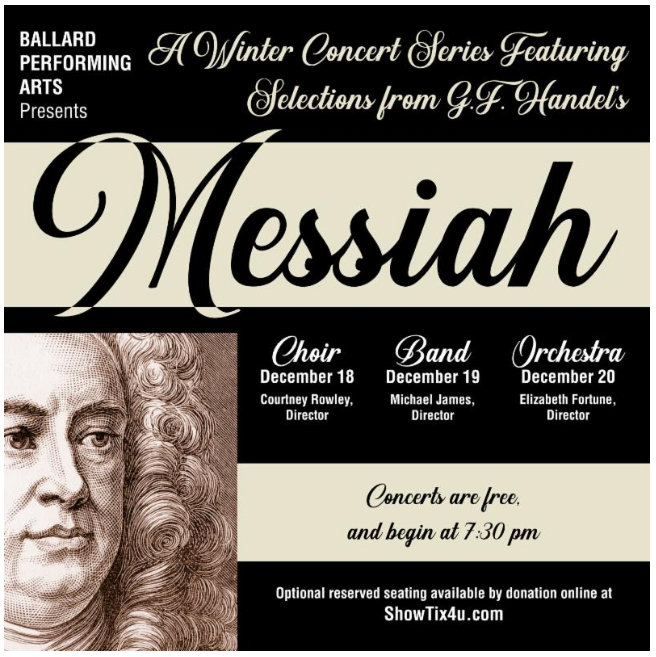 Comments Off on Messiah
November 28th, 2018 by Sara
Celebrate the final days of the current Burke Museum before we close our doors on December 30, 2018 to move collections and prepare exhibits for the New Burke Museum (opening fall 2019). Enjoy free admission and gallery activities for all ages.
Scheduled activities:
11 am – 1 pm daily: Meet paleontologists and get a closer look at fossils being prepared in the Testing, Testing 1-2-3: Work in Progress paleontology labs
11:30 am daily*: Storytelling of "How Mouse Moved the Mountain." Dec 29 & 30 only: activities led by special guest artist/storyteller, Ty Juvinel (Tulalip)
2 pm daily: "Tiny Talks" with Burke staff and volunteers about their latest research and recent (re)discoveries of stories revealed in the process of moving into the New Burke
Ongoing activities (10 am – 5 pm daily):
-Take part in culture, fossil and biology-themed crafts and hands-on activities for all ages
-Enjoy the Testing, Testing 1-2-3: Work in Progress exhibit along with the Burke's long-term Life and Times of Washington State and Pacific Voices exhibits
-Add you own artistic contribution to a large-scale geologic timeline drawing created by artist Jed Dunkerley in the Burke Room
-Mark the occasion in the Burke Boiserie Photobooth and share your favorite memories in a special yearbook
*Additional storytelling times may be added daily as staffing allows
Go to burkemuseum.org/finalweek to plan your visit and for more information.
Comments Off on Final days at the 'old' Burke
November 28th, 2018 by Sara
Join in a beloved Green Lake tradition at the annual Pathway of Lights, December 8 from 4:30 -7:30 p.m. Walk the loop and view tons of beautiful light displays, and a hot air balloon display.
Enjoy  live music and complimentary refreshments as you circle the lake. Please bring a nonperishable food item to to benefit FamilyWorks.
Comments Off on Annual Green Lake Pathway of Lights
November 28th, 2018 by Sara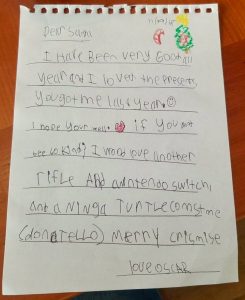 Grab the kiddos and head on down to Populuxe, December 8 from 2-4pm to make some holiday cards. Art supplies will be provided. Santa Claus will be onsite to visit with the kiddos and take photos. Free and open to all!
Comments Off on Free kids cardmaking at Popluxe Brewing
September 25th, 2018 by Sara
The U District, Roosevelt, and Northgate Link light rail stations will arrive in 2021, which means these neighborhoods will be better connected to each other and the region. Three-quarters of Ravenna residents said they plan to use the Roosevelt light rail station when it opens, according to a 2013 RBCA survey.
Join U District, Let's Go for an evening of sharing ideas and resources to prepare for these changes. Learn what our neighborhoods are already doing to get ready for transportation investments coming soon. Let's learn from each other and build on our collective creativity as we get ready for 2021.
Transit Talk: We're in it Together
Urban Luxe Café, 6105 Roosevelt Way NE
October 4, 2018
6:00 p.m. Doors open, drinks, appetizers, networking
6:30 p.m. program start, welcome, panel introductions and brief presentations
7:40 p.m. moderated audience Q&A
8:00 p.m. program ends
More information and free registration available through the U District, Let's Go website.
Comments Off on Transit Talk
September 24th, 2018 by Sara
Learn how to make an emergency toilet, operate an automated external defibrillator (AED), and other handy city life hacks at the Urban Survival Skills Fair on Sept. 30 next to Victory Heights Park. Hosted by Seattle Emergency Hubs, the fair will feature booths and information for those interested in emergency preparedness.
Comments Off on Urban Survival Skills Fair in Northeast Seattle, Sept. 30, 10-2
September 21st, 2018 by Sara
Fremont Oktoberfest is happening tonight!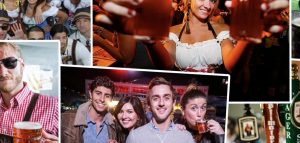 Here are some of the guidelines, straight from the horse's mouth:
Here's what you need to know: 
Fremont Oktoberfest requires a ticket and is 21+ EVERY. SINGLE. DAY.
No kids. No babies. No exceptions.
Dogs are welcome (and encouraged!) to join you on Sunday Only.
Read on because we are about to school you on how to do Oktoberfest, Fremont style. For real, this is the best page to read on the whole website.
WTF ARE THESE TASTING TOKENS YOU SPEAK OF?
Tasting Tokens
Plastic tokens are included in General Admission (5 tokens) and Grand Admission (10 tokens), and are used like money to purchase tastes of beer with your 5 oz mini-mug, which is also included with your admission. Each token is good for one fill-up of your mini-mug. Got it?
How to Use Them
We have over 100 seasonal beers to taste, so explore the Beer Lineup, find beers you want to try, give the volunteers your mini-mug and a token, and you're all set.
Worried About Running Out?
Oh no, out of tokens?? Don't panic, you can buy more at our Merchandise Booth.
WHAT'S UP WITH THE MINI-MUG?
Mini-Mug
A 5 oz commemorative acrylic mini-mug is included with General Admission and Grand Admission.
How to Fill Up Your Mini-Mug
We have 100 seasonal brews to choose from inside of the festival. Decide what you want to try, give the volunteers your mini-mug and a token, and they'll fill you up.
Don't Forget
Tastes add up — don't be deceived by its small stature, the mini-mug packs a punch (in the face).
WANT TO GO BIG?
Buxom Steins
5 oz not enough? No problem. We have larger options available for purchase in the Buxom Beer Garden:
Full-liter steins – $20, $10 refills
Full-liter boots – $25, $10 refills
Sweet – How Do You Go Buxom?
Purchase your Buxom options in the Buxom Beer Garden. Pay separately with cash or card. Remember, Tasting Garden admission is required.
What if You Only Want the Buxom Stein?
Already know you don't want the mini-mug? We know your type. Skip the tasting and purchase our Festival Only Admission (entry only with no tasting tokens), then go straight to the Buxom Beer Garden for your Buxom stein options.
Don't Forget
Buxom steins can only be filled in the Buxom Beer Garden; you will need a mini-mug to enjoy tastes elsewhere in the Tasting Garden. Easy, right? And if you change your mind, you can always buy a mini-mug and tokens at the Merchandise Booth.
GASP — YOU DON'T WANT TO DRINK BEER?
Don't worry, we have ciders and wine available too.
ARE YOU A DOUBTER? ("REALLY $25 FOR 5 TOKENS?")
It's okay, sometimes you just need it spelled out for you. Here you go…. $25 gets you the equivalent of two beers at the bar, plus live music, partying in the streets, over 100 beers to choose from, and drinking for a good cause. AND…. when you get your second wind, it's $5 for three more tokens, which translates to $5 for a full beer. That's a pretty good deal for microbrews. So take that.
Still feeling cheated? Fine, have a promo code for two extra tokens on us – enter SKEPTIC when you purchase tickets online.
Have more questions? Check out the FAQs.
Comments Off on Fremont's Oktoberfest Tonight!
September 20th, 2018 by Sara
Written by Lindsay Joelle, and Produced by Forward Flux Productions & presenting partner Pratidhwani, A SMALL HISTORY OF AMAL, AGE 7 is an immersive experience that is perfect for the entire family. Audiences will travel to Mumbai, India, where they will meet Amal, a 7 year old boy who uses his explorer's heart and a little Bollywood magic to fight the god of death. Exploring universal issues through the eyes of a small boy, this imaginative play weaves together heartache and triumph as it invites us to examine our connection to family, our city, and the world. The play is set in 2006, on the day of the Mumbai train bombings. It is inspired by Rabindranath Tagore's play, The Post Office (Bengali: Dak Ghar) Presented as part of The Flux Salon series last year, this new play was developed with the playwright as Joelle visited Seattle several times this summer to work with the cast and creative team to bring this immersive production to life. Run Time: 75 minutes, no intermission
Featuring: Nabilah Ahmed (Amal), Gurvinder Pal Singh (Uncle), Jay AthalyeSuda (Rishi), Varsha Raghavan (Rishi), Abhijeet Rane (Doctor), Meenakshi Rishi (Nurse)
Creative Team: Samip Raval (Director), Wesley Fruge (Movement Director/Forward Flux Producer), Shahbaz Khan (Assistant Director), Agastya Kohli (Pratidhwani Producer), Cassandra Thorpe (Production Manager), Jordan Gerow (Scenic Design), Pallavi Garg (Costume Design), Zanna King (Lighting Design), Brian Murphy (Sound Design), Karla Davenport (Properties Manager), Justin Duffiance & Annie Duffiance (Technical Director/Set Builders/Scenic Charges), Rachel Culbertson (Stage Manager), Michael Latham (Assistant Stage Manager) Questions? Contact the Producer! at info@forwardflux.com
www.forwardflux.com
West Of Lenin: A Small History Of Amal, Age 7
When
Thu, September 20, 7:30pm – 9:30pm
Where
West of Lenin, 203 N 36th St (map)
Opens SATURDAY, SEPTEMBER 22nd @ 8:00pm Previews Sept 19, 20 @ 7:30pm, 21 @ 8:00pm Sept 24, 27, Oct 1, 3, 4 @ 7:30pm Sept 28, 29, Oct 5, 6 @ 8pm
For more info visit http://westoflenin.com/index.php 
Comments Off on Family theatre at West of Lenin
September 20th, 2018 by Sara
Mayor Jenny A. Durkan announced $1.7 million in awards for senior centers that contribute to the health, well-being, and independence of Seattle's older adults.
"As our City grows less affordable, we must continue to invest in our most vulnerable residents, including our senior community. Our older neighbors are an asset to our community and a vital part of the fabric of our neighborhoods," said Mayor Durkan. "Our senior centers provide opportunities for volunteerism, lifelong learning, transportation, and healthy meals. These investments will help our neighbors live longer and enhance their quality of life."
Twelve nonprofit centers across Seattle will receive awards ranging from $67,000 to $180,000 in 2019, including:
Asian Counseling and Referral Service
Chinese Information and Service Center
International Drop-In Center
Greenwood Senior Center (operated by the Phinney Neighborhood Association)
Pike Market Senior Center
South Park Senior Center
Southeast Seattle Senior Center
Wallingford Community Senior Center
And four programs operated by Sound Generations:
Ballard Senior Center
Central Area Senior Center
Lake City/Northgate
Senior Center of West Seattle
"HSD has developed a results-driven investment model that helps ensure that the department's work is making a real difference in the lives of vulnerable people, addressing community disparities, and investing in what works," said Jason Johnson, Interim Director of the Human Services Department. "These centers provide high-quality, cost-effective programs. They reach out to older people who may be socially or culturally isolated and they build a real sense of community."
The Seattle Human Services Department recommended the senior center awards from the City's General Fund. Its Aging and Disability Services division reviewed center proposals and made final decisions based on recommendations from a community-based review committee, the geographic location of the center, and the opportunity to serve populations with higher health disparities and/or lower social and emotional support, particularly Hispanic/Latinx and Black/African American older adults.
Several studies show the connection between social engagement, quality of life, and longevity. AARP Foundation's Connect2Affect lists numerous risk factors for older adults, including diminishing social networks, fewer transportation options, changing roles, and living alone. Social and civic participation and community support are among the goals of the City of Seattle's Age Friendly Seattle action plan.
For senior center locations, more information about local programs and services for older adults, or answers to questions about aging issues, call Community Living Connections toll-free at 844-348-5464.
Comments Off on Senior centers to get $1.7M from city
July 12th, 2018 by Sara
From Fremont Chamber of Commerce
Almost two hundred years after the start of the event in Germany, Fremont puts its own twist on tradition as Fremont Oktoberfest is Seattle's biggest fall beer festival with 100 beer taps of craft beer, German beer, ciders and more offered in mini-mugs for sampling and full 1-liter steins and boots! The event spans a Friday, Saturday and Sunday in late September. It features more 50 breweries, non-stop music with favorite local bands, traditional German food, and a variety of acts and zany contests in keeping with the offbeat Fremont tradition.
Due to lack of refrigeration, in old Germany, the brewing season began with the fall harvest of barley and hops and continued through the cold months of the year. The last brewing happened in March. Any beer left at harvest time had to be consumed before the new beer arrived. At least that was the official line. The last Saturday of September through the first Sunday of October was designated as the time to drink-up all of last season's beer. It officially became Oktoberfest in 1810, when Crown Prince Ludwig declared a 10-day celebration in honor of his betrothal to Princess Theresa of Bavaria. Since most of us have to work on Monday and cannot party for 16 days, we invite you to experience how the Fremont Oktoberfest squeezes 16 days into one unbelievable weekend. Click here for more information.
Comments Off on Oktoberfest is coming- volunteer now!
---
More News from North Seattle