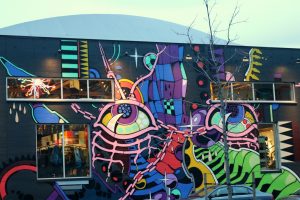 In case you haven't noticed, the Fremont tradition of public art is alive and well, in spite of progressive development and the area's growth as a high-tech hub. Let's document this ongoing phenomenon in our neighborhoods, alleys and small business corridors in 2017. With the Burke Gilman trail snaking its way right along our waterfront paralleling 34th Ave, it's an easy side-cycle tour to view Fremont in all its artsy glory. To get us started, here are a few favorites from our readers.
Evo  The ever-colorful, always lively Evo storefront on Stone Way North leads the pack for public art, with its enormous concrete canvas covering the entire south side of the building. The newest incarnation of its massive mural is on Stone Way North and 35th. (See photo above.)
Our Neon Mermaid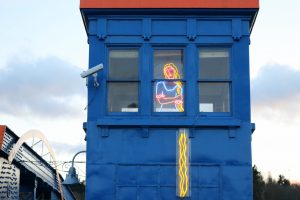 One of the only four bascule bridges in Seattle, our multi-colored Fremont Bridge is a piece of art in itself – but have you noticed that its control tower is also home to our very own neon mermaid? Gazing down from the tower like an aquatic Rapunzel, her hair cascading toward the Lake Washington Ship Canal beneath the bridge, she serves as a beacon of light and a constant reminder of Fremont's roots as Seattle's favorite organic arts community. With an average of 35 openings per day on the most opened drawbridge in the United States, our neon lady of the sea stays quite busy.
The flip side of the control tower illustrates a fable by Rudyard Kipling, featuring a neon elephant and crocodile. An electronic bike counter nearby counts the ever-increasing number of cyclists crossing the bridge each day, culminating in a grand annual total.
Send in your own photos for brightening the remaining weeks of winters here in Seattle!