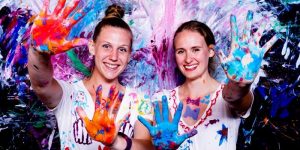 It's time again, everyone – the Paint Dancing Party at Gasworks Gallery is this Saturday, the 14th. If you've never been before, get ready for a crazy night of flamboyant painting and dancing in the private studio of abstract painter and hunger awareness activist, Matt Jones. There's only room for 48 people, so get your ticket ahead of time through EventBrite. It's only $9.50, and you have the entire evening to let loose with classic dance music from the 70s and 80s.
Here's how it works: you wear a white shirt (or as much white as you want all over), and become a "human canvas" for fellow attendees to create their masterpieces right on you. Painting and dancing at the same time apparently unleashes a creativity you never knew was lurking inside you. Only one way to find out: show up and let loose. This time around, there's an added element of custom hats. Bring your own, or make one from large sheets of paper provided by the gallery. And yes – those hats become canvases as well.
Bring along party foods and drinks if you'd like, and share with fellow dancers and painters. The event is at the laid-back artist enclave of painters, photographers, sculptors and more who have their studios at Gasworks Gallery down on Lake Union, across from Ivars. For the paint party, enter through the back door of the gallery at 3816 Latona Ave NE.
If you can't make this one, no worries; the gallery also has a fun "Passion for Mashin" gallery party on the first Friday of March. Entrance is free with a donation of storable food for Matt Jone's MashedPotatoes.org foundation, which provides food for Northwest Harvest to feed those in need.
Want to know what you're in for ahead of time? Check out a typical Gasworks Gallery paint dancing party on YouTube: