Next week King County's contractor will begin installing a new underground structure at the intersection of NW 2nd Ave and Canal St. This structure will connect the new siphons to the existing County sewer system which runs under NW Canal St. The work will close the corner of 2nd Ave. NW and NW Canal St. beginning Monday, March 14. The corner will remain closed through the fall.
What this means for you: drivers on 2nd Ave. NW will be able to use the alley to detour around the closed intersection. NW Canal St. will be open to two-way traffic. Westbound vehicles on NW Canal St. can use the turn-around area near 2nd Ave. NW. 
Along with the detours, expect more noise and activity on 2nd Ave. NW. The contractor will start by installing shoring for excavation of the new connecting structure.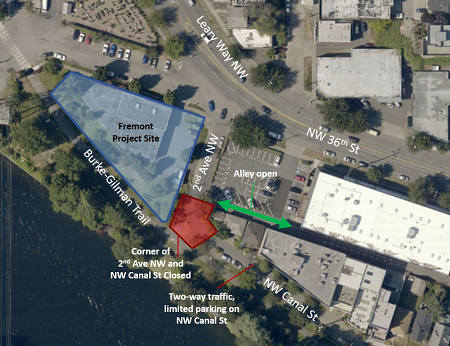 What to expect
Two-way traffic, limited parking on NW Canal St. between 2nd Ave. NW and 1st Ave. NW

Access to the alley behind NW Canal St. open via 2nd Ave. NW

Burke-Gilman Trail users should access the trail and Fremont Canal Park from 3rd Ave. NW or 1st Ave. NW

Increased noise and activity from pipe installation activities

Work from 7 a.m. to 6 p.m. weekdays
Stay safe!
Please avoid the project area and sidewalks on NW 36th St. next to the project area. Please do not engage individuals working at the site. Community members can ask questions or share concerns about the project 24 hours a day by calling the project information line:
206-205-5428.