Is it time for Spring Cleaning yet?! Keep Threadcycle in mind.
King County and Seattle Public Utilities have launched a partnership with the assistance of used clothing collectors to reduce the amount of clothes and linens reaching landfills. A staggering 95% of clothes, shoes, and linens thrown away instead could be reused or recycled.  The campaign to redirect these reusable or recyclable items, called Threadcycle, should help reduce the approximately 40,000 tons of clothes, shoes, and linens sent to landfills each year.
The Threadcycle campaign encourages people to donate, rather than throw away, common clothing and fabric items. The campaign also makes properly disposing of these items easier. Eight used clothing collectors in King County will accept all apparel and linens, including damaged items to reuse or recycle. Only items that are wet, mildewed, or contaminated with hazardous materials cannot be accepted. The campaign seeks to educate about which items can be accepted for Threadcycle.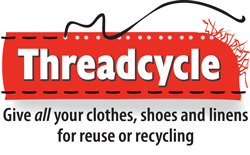 "People are accustomed to hearing that only 'gently used' items can be given to thrift stores and drop boxes – many don't know that they can give damaged clothes and linens, or even single shoes and socks, which will either be reused, or recycled and used to make new products," said Kris Beatty, program manager for King County Solid Waste Division.

"The good news is that recycling markets are strong for these post-consumer textiles, and many collectors in our area want more textiles," Beatty said.

Campaign partners who accept clothes, shoes and linens in any condition except wet, mildewed, or contaminated with hazardous materials are: Big Brothers Big Sisters of Puget Sound, Seattle Goodwill, Northwest Center, Salvation Army Family Thrift Stores, SightConnection, TexGreen, USAgain, and Value Village.
Find the nearest location to donate your used clothes and linens here. To learn more about Threadcycle, what items can be given for reuse or recycling, and where or how to donate, visit www.kingcounty.gov/threadcycle.

Click on the image for more information about reusing and recycling items.