The 3500 block of Fremont Ave N, just north of the Center of the Universe, is a popular stretch with food and shopping options for all tastes. On the west side in one of Fremont's historic buildings Frame Up, Pie, Bluebird Ice Cream, and the former Dubliner Pub sit side by side with large welcoming windows. What many residents and visitors alike may not realize is that upstairs is the Hotel Hotel Hostel, recognized as one of the top boutique hostels in the world.
When The Dubliner, an Irish pub located just downstairs, came up for sale the owners of Hotel Hotel Hostel saw an opportunity to expand their offerings for both travelers and the Fremont neighborhood. They purchased the bar and began modifying the space earlier this year culminating in a name-change to "Hotel Hotel" last week.
Over the past four years the Hotel Hotel Hostel has quietly welcoming scores of international and domestic travelers to quality minimalist yet funky accommodations through a mirror-encrusted doorway between Bluebird Ice Cream and The Dubliner. Offering both private rooms with private bathrooms and traditional dorm style hostel rooms, Hotel Hotel Hostel fulfills all parts of it's name. Family rooms with a king bed for parents and a bunk bed for children are also available.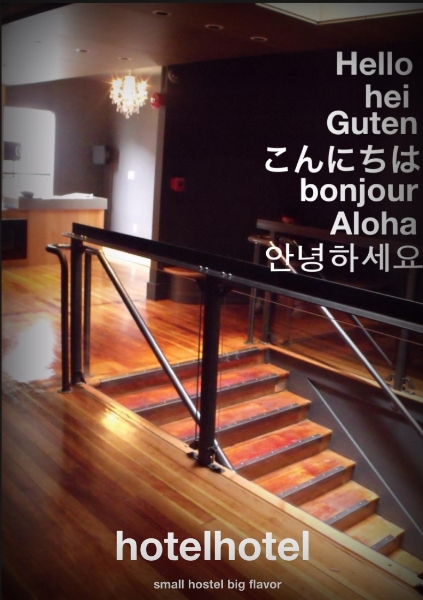 Owners Lee Kindell and his wife Nancy Gambin also own and operate the art-themed City Hostel Seattle in Belltown. Both hostels offer a range of accommodations and boast rooftop gardens and beehives. There are even some chickens who call the City Hostel roof home. Lee and Nancy are dedicated to their vision of a fluid hostel community. Through their combined efforts and experience both hostels have become cornerstones in Seattle's intimate hostel scene.
Both avid travelers, Lee and Nancy first met at a hostel in Austin, Texas during Halloween. After Nancy returned to Toronto and Lee to Seattle they remained in touch and eventually settled in Seattle. They opened their first hostel together in Ballard about 8 years ago.
"It was our whole life!" Lee commented.
Smaller than Hotel Hotel, guests were treated as friends with personal tours, rides from the airport, and backyard BBQs. Lee and Nancy even lived in an upstairs unit for a time. Although they received a lot of praise from guests and enjoyed sharing Seattle so personally, Lee and Nancy aspired to expand their business. They left Ballard and established City Hostel Seattle in a historic hotel building. When the opportunity to take over a space in Fremont came up, Lee says he lept at the chance to return to North Seattle.
Lee has been spending an extensive amount of time in Fremont over the last few months. Just as when he renovated the Hotel Hotel space upstairs, he has been working hard on every detail for turning the Dubliner into what he hopes will be a neighborhood bar with a "living room feel."
The interior changed subtly at first; brown tables became black, posters and signs promoting various alcohols slimmed down, and several walls were painted. More noticeably, the windows are now filled with cut wood, for the new wood fired pizza oven, and just recently new signage appeared for "Hotel Hotel" and "Authentic Detroit Pizza."
New signage at the former Dubliner
Overall the space is more minimalist, similar to the hostel upstairs but with sharp attention to detail. Each table has a number (1, 2, 3, etc.) painted on in varying styles, for fun and food service. The raised area where two dart boards hung is being converted into a casual stage. Given the pace that Lee works it may already be complete by the time you read this.
While Lee and Nancy are "attached at the hip" when it comes to the hostels, the transformation of the Dubliner has become Lee's project and vision. He is excited to offer a food and beverage option for hostel guests in addition to increasing Hotel Hotel's presence in the Fremont community.
I recently sat with Lee at table number 1 (a block number filled with an intricate floral design) and already you could see his vision becoming a reality, a comfortable space for travelers and locals. About ten customers were seated through the bar enjoy beverages and slices. Lee had already introduced himself and spoken to each one of them.
"See there," he said, pointing back towards the bar "those two young men are Australians staying at the hostel. The table next to them are architects from across the street!"
The architects were sampling Lee's latest project; pizza from the new wood fired oven, and sounded very excited about their slices. The Hotel Hotel bar began offering pizza just this past Monday, March 2nd. A pint of Rainier and slice of pizza is now available for $5.
Pizzas are prepared in a wood fired oven
With experience in corporate restaurants Lee feels very comfortable taking on food service, now it's just a matter of fine tuning the menu. In addition to traditional margarita and pepperoni pizza, other toppings include arugula and a not-too-hot sriracha sausage. Lee plans to add salads and appetizers down the road and to incorporate honey from the rooftop beehives into the menu. The intention is to keep it simple at first and ensure each addition meets Lee's high quality and service standards.
The bar will follow a similar approach with evening events. Wednesday night's popular Geeks Who Drink trivia will remain to the delight of it's following. A proponent of live acoustic shows, Lee will begin to introduce live music on the updated vaudeville-like stage, most likely on Sunday evenings. This also ties in with the hostel's "Stay and Play" program where musicians can trade accommodation for performances enjoyed by other guests and now, the Fremont community.
Toward's the end of our conversation, Lee hops up and excuses himself to welcome two new customers. Two women with bike helmets in hand, inquired if the bar served food or just drinks. In his dusty long black apron Lee excitedly nodded and explained pizza was now available. He introduce himself and offered them a seat.
While the women settled down for a pint and presumably some pizza, Lee prepared to head back to the kitchen and keep fine-tuning his new operation. His energy and excitement seemed to soar as he shared one final thought about the reinvented bar: "The hostel is more of a global place, here we can be a real integral part of the community."
Customers fill the new Hotel Hotel bar, formerly the Dubliner
New pizza offerings at Hotel Hotel