Stone Soup Theater
located on Stone Way is a non-profit organization offering an intimate and education theater experience. Each season Stone Soup produces 4 MainStage shows, 3 youth performances, along with after-school and summer programs. Since its inception in 1996 and first performance in 1999 Stone Soup Theater has been a part of the Fremont and Wallingford landscape. According to the organization their Downstage Space " hosts a total of 3,500 patrons every season."
Like many small non-profits Stone Soup Theater seeks assistances in several ways from financial contributions, equipment donations, and help from volunteers. Each person who attends a performance contributes as well through tickets sales, participation, and word of mouth.
Stone Soup's current fundraiser is their annual
Indiegogo campaign
with a goal to raise $5,000 in 5 weeks. Stone Soup Theater hopes to use these funds to offset recent rent increases and other facility related expenses. Less than two weeks remain in the campaign and Stone Soup still needs additional support.
They have asked the community for help:
Even if it's only $5 or $10, we are grateful for any support you can give us.

Visit our 

Indiegogo page

, peruse our fun videos and photos and donate! Don't have money to donate? That's okay! You can forward this email to your friends and fellow theatre aficionados and tell them about this great opportunity to support live theatre through their donations. Share our Indiegogo link on your Facebook, Twitter, Reddit,…anywhere: 

www.indiegogo.com/projects/5-000-in-5-weeks/x/4942588#home

Thank you for your support!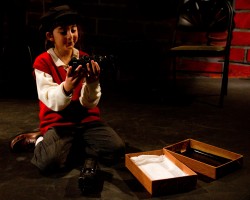 Stone Soup kicks off the holiday season on December 5th with two short plays: A Child's Christmas in Wales & The Long Christmas Dinner. The productions will run through Christmas Eve, for showtimes and ticketing information click here.
Read about the full Stone Soup Theater story from Artistic Director Maureen Miko here.