In case you haven't heard, it's solstice time! The Fremont Fair and Solstice Parade takes place this weekend and our not-so-sleepy neighborhood will be full to the brim with festivities, live music, and of course visitors!
Bold Hat Productions, the organizers behind the fair has put together this fun Fremonster's Guide to the Fair: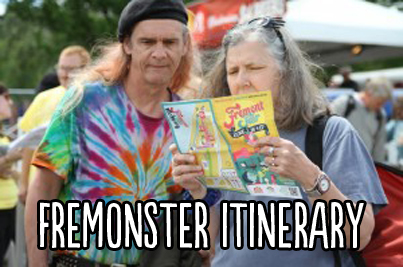 Here are a few other tips we think Fremonsters might find useful:
Sunrise today was at 5:11am (kudos to anyone awake to witness it) and Sunset this evening won't be until 9:11pm. Today, June 21st is the official Solstice!
The Redhook Main Stage (where the Concert series is taking place) is on 35th street between Phinney Ave N and Evanston Ave N dubbed the "Rocket Block." And very importantly, the Main Stage Beer Garden is located on the South side of the street. The concert series bands will perform from 5:30-10:45pm.
If you rely on street parking, don't move your car. Just don't do it. The Rock and Roll Marathon is also going on downtown. Traffic is no way to celebrate the Solstice.
The street closure for the Solstice Parade begins on Saturday at 2:30pm, the Painted Cyclists (aka Naked Bike Ride) hits the roads at 2:45pm, and the parade begins its progress at 3:00pm.
Want a change of scenery? Head to the Solstice Celebration at Gasworks Park on Saturday featuring Honk! Fest West with brass bands, food, and another Beer Garden! Festivities carry on until 9PM
Beer Gardens!
– All the Fremont Fair beer gardens are CASH ONLY
– The Fremont Fair beer gardens will be pouring Budweiser plus three of major sponsor Redhook's brews: Redhook IPA, Redhook ESB,  and Redhook Audible.
The Art Cars have moved! They are now located closer to the Fremont Canal near the Burke Gilman.
Learn more about the Solstice Parade and Gasworks celebration on the Fremont Arts Council website.
You can also get the lay of the land here:
Happy Solstice!!!