Seattleites bid farewell to the warm temperatures and sunshine this weekend and instead embraced cooler temperatures (mid to high 50s oh my!) and sudden showers. In traditional NW fashion the weather did not slow many folks down, especially when it came to the Mobile Food Rodeo this past Sunday in Fremont.
The Fremont Sunday Market occupied it's normal end of North 34th Street with a wide array of crafts, vintage finds and other wares. Then came the taco trucks, the crepe trucks, the mediterranean trucks, waffle trucks, hamburger trucks, on and on. A feast for the eyes, nose, and of course, the mouth.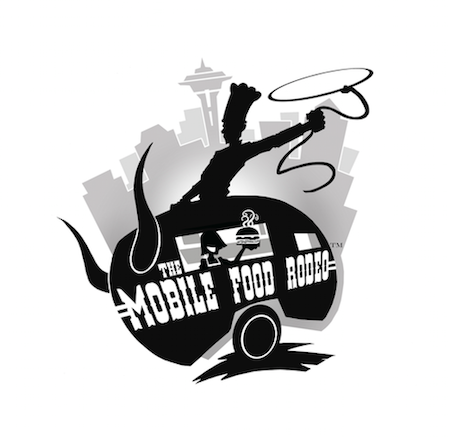 Regular market patrons and visitors alike quickly left the Sunday Market scene and were surround by the Mobile Food Rodeo. This year's rodeo featured 45 local food trucks, over 20 of which participated in the Taco Libre Showdown sponsored by University VW Audi. Foodies vote throughout the Rodeo for the best taco, in 2013 Marination Mobile took home top honors. Also unique to the Mobile Food Rodeo, each participating truck offers a $5 sample plate so you can taste the variety of their menu and sample even more trucks.
Part of the crowd toted "VIF" badges and were clearly on a mission. A limited number of these "Very Important Foodies" purchased passes for $25 (one-day) to skip the lines and have a minimal wait in the VIF lines.
In additions to the food offerings themselves the variety of truck setups from pig shaped, an impressive custom Mercedes truck, to trailers and retired trolleys livened up the line up. The cast of characters working inside added to the festive air. Full and contented patrons strolled the overcast streets and the showers held off until late afternoon. It's much easier to be rained on with a full stomach!
Some favorites such as Marination Mobile (previously a regular on N 35th Street), Flair Taco (open 7 days a week next to Piece of Mind), and Off the Rez (previously a regular on N 36th Street) were present. Off the Rez won this year's Best Taco award to boot! You can check their Facebook to see where they'll be next.
Other food trucks acted as an extension of a physical location such as Pel Meni Tzar Russian Dumplings (tucked between N 35th and N 36th streets on Fremont Place), Skillet Street Food (with Skillet Diner locations in Ballard and Capitol Hill), Veraci Pizza (located just over on Market Street) and of course, Ezell's Express serving up the local chain's famous chicken.
Not done feasting at the food trucks?
You can check out the Seattle Food Truck website or Roaming Hunger to see where your favorite food trucks might be. There are also several food trucks each week at the Fremont Sunday Market so hold off eating until you get there! Also, the Mobile Food Rodeo will be making it's next appearance at the Seattle Street Food Festival August 8-9th in Capitol Hill.