Perhaps the perfectly nerdiest of all holidays, Pi Day is here! March 14th or 3.14 will be celebrated in classrooms, offices, and amongst mathletes all around. In Fremont, Pie, makers of sweet and savory "hand held pies" will be going all out for the occasion according to their Facebook page. Pies will be available for $3.14 from Noon until 3:14PM AND the shop will reopen their Late Night Window from 9:30PM until 2AM for those math fans still about and about. Perhaps with 3.14 pints in them.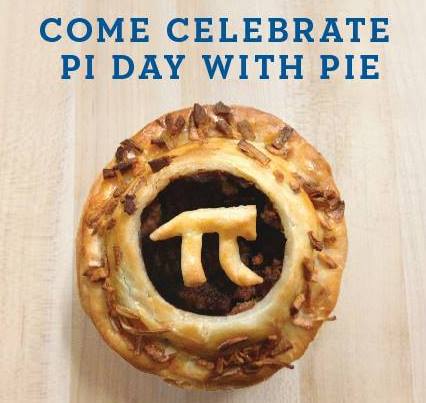 PI DAY MENU:
Savories: Chicken Pot Pie, English Meat, Triple Pig, Channa Masala, Pesto Mac + Cheese, Gluten Free Channa Masala
Sweet: Berry Awesome, Apple, Strawberry Rhubarb, Key Lime, Peanut Butter Cream, Lemon Custard w/ Raspberries, Gluten Free Berry Awesome
Breakfast: Tomato Basil + Swiss Scramble
HAPPY PI DAY!