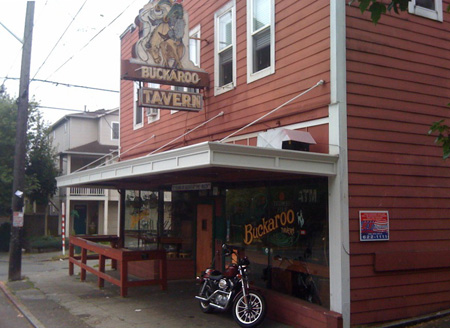 The Red Building Formerly Known As The Buckaroo has been busy in recent months. Every time I walk by it seems like something is going on and yet nothing is going on at the same time. They blocked out the windows, then they took it down. There was briefly some kind of light show going on inside and then that was replaced by a giant Jenga-like structure. And then last week there was a box full of grapefruit skins out front for a good week before that mysteriously disappeared.
However, it looks like the time has come to put an actual business back inside the building.
Matthew Lewis, whose popular food truck of that name is "bringing New Orleans to the streets of Seattle," is bringing his talents to Fremont Avenue space where he's planning to open a breakfast-lunch-and-dinner joint called Roux, according to The Seattle Times.
Lewis had been thinking for a while that "I'd love to put down some permanent roots so people could always find us," he said. "It's going to be nice to do beignets all day long (instead of the current 11 a.m.-2 p.m.), and to have some really nice Herkimer coffee to go along with it. It will allow us to do some of the cool signature things we've been playing around with." (On the list: N'awlins-style chicory coffee.)
Lewis says he wants the place to "be really New Orleans, or naturally New Orleans, as people would say." Roux is hoping to open in August. Watch Lewis' Facebook page and Twitter feed for details