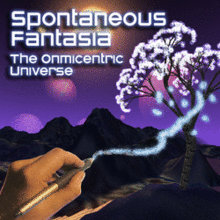 The first multi-performance production in Fremont's newest theater venue, West of Lenin, arrives in Seattle this week. Digital artist J-Walt brings his newest Spontaneous Fantasia show, The Omnicentric Universe, to West of Lenin for four performances – Wed 8/31 at 8pm, Fri 9/2 at 8pm and Sat 9/3 at 5pm and 8pm.
In Spontaneous Fantasia, J-Walt utilizes the latest in interactive computer graphics techniques to bring paintings to life. The result is a live animated movie that unfolds before an audience. These works incorporate elements of animation, theater, dance, painting, sculpture, music, architecture, and interactive art.
"With my performances, I take literally the meaning of the word 'animation': making images come to life. I use my drawing skills to give directions to computer programs I've written. I aim to capture the sensitivity of gesture, but I also use techniques which amplify and augment the gestures. The wave of the arm or the stroke of the pen is my foundation, but the effect is much more. My creative process for these pieces is to continually shift between painting, programming, composing music, and performing. My goal is to create a wholly integrated experience for the eye, ear, and mind."
Check out a preview of the show below and head over to Brown Paper Tickets to purchase tickets.