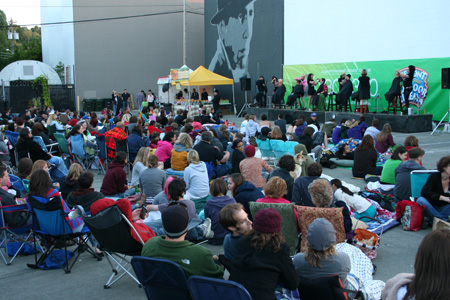 Seems like just yesterday Fremont Outdoor Movies was kicking their season off with zombies and vampires and the like. This weekend, however, will be the final showing of the summer. If you haven't been to a show yet, you probably want to give this one a try. Just make sure you bring a rug to tie the parking lot together.
The season wouldn't be complete without a screening of "The Big Lebowski." The Dude Fest kicks off a new northwest celebration for all things related to the 1998 Coen brothers cult comedy, "The Big Lebowski."
This year, we are helping support a wonderful local charity Lumana . 100% of the entire beer garden and White Russian Bar sales go the organization. A portion of the ticket proceeds go to support Lumana.
Lumana is a great cause that helps rural Africans to reach their personal and financial goals by providing savings accounts, small loans, business management education, and relevant local mentorship to primarily women in small villages across rural Ghana.
Dude Fest also includes special guests, musical performances, a white Russian bar and a quote-a-long. What, no bowling? 100% of the beer garden and white Russian bar proceeds will go to Lumana.
Tickets are $15 at the door, which opens (in theory since there is no actual door) at 7pm.