Reposted: If you haven't already made a run to Stoneway Hardware to pick up some supplies to barricade your house or apartment, now would be the time.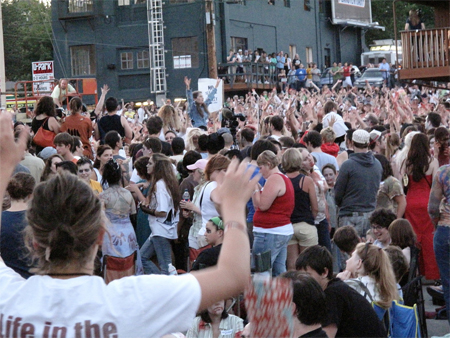 A scene from the zombie walk 2009
Make sure you get plenty of wood planks to reinforce your doors & windows. Have plenty of shovels and pickaxes handy as multi-purpose tools. Non-perishable goods are always in season. And whatever you do, have an escape route in mind.
The zombies are coming.
This Fourth of July weekend, thousands of Seattle's undead return to feed on brains, beers and mobile food to represent the Emerald City to shuffle their back into the history books to reclaim the Guinness World Record for "Largest Gathering of Zombies." New Jersey currently holds the official record with 4,093 Zombies set back in October 2010.
The only way to avoid being consumed by the undead…join the fun and dress up like one as well. If you want to help break the record, 4,095 zombies must be present at Fremont Studios (3501 Phinney Ave.) on Saturday, July 2nd, 2011 starting at 2pm.
Along with the Zombie Walk, there will also be a concert featuring Kultur Shock and The Staxx Brothers (obviously both your mother's favorite bands). Get your drink on at the Beer Garden (proceeds benefit Fremont Arts Council) and get your non-brains-related eat on at one of the 10 food trucks that will be on hand.
If you don't know where to go, just follow the trail of human limbs. Or signs. Probably the signs would be better. And more sanitary.
Just because you don't know how to zombify yourself is no excuse. Get your make-up done by professionals for $5 if you need a quick fix or $10 for the full costume. Come early and head to the front entrance to get done up.
Full details can be found at two websites Fremont Outdoor Movies or ZomBcon for the full lineup of events and activities. Tickets are available for only $3 single or $5 for two people until June 25th at www.strangertickets.com.