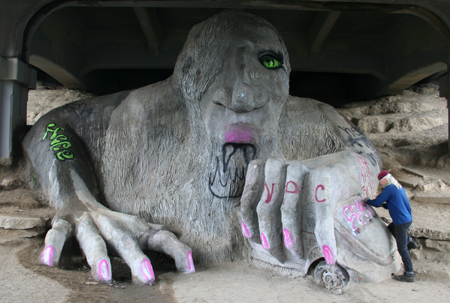 You know, you can mess with Fremont's streets and its buildings and even its people. We can take it and give it right back. But you don't mess with our Troll. Unfortunately, a bunch of taggers decided it would be a good idea to do so recently.
A black smile stretches across the face of the Fremont Troll under the Aurora Bridge. Its eye is circled in black and an X is marked on its head.
Fortunately, the Fremont Arts Council is organizing a cleanup party tonight (Tuesday) to take care of the mess. The Council is asking for volunteers to help clean up the tagging at 7 p.m. The more the merrier.
No word on how these types of things will be prevented in the future, though the Troll was quoted as saying he was going to use "troll-justice" next time.
(The photo is actually from a similar incident in 2009)