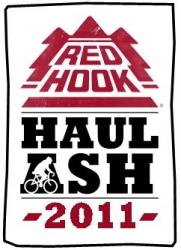 As a remembrance of the 1980 eruption of Mount St. Helens, Red Hook Brewery will hold the 16th annual "Haul Ash" Tour de Brew bicycle ride – a 42-mile, round-trip excursion between the current Red Hook Brewery (14300 NE 145th St) and Fremont, the birthplace of Red Hook, on Sunday, May 15th.
Fremont is expected to have heavier than usual bicycle traffic, especially on N 36th near LTD Bar and Grill, which is the half way stop point for the ride.
After departing Redhook riders will turn left, cross the bridge and head north on the Sammamish River Trail. Riders will meander along the Sammamish River Trail until it becomes the Burke-Gilman Trail. Views of Lake Washington, the University of Washington and Lake Union inspire riders to the midway point. Upon arriving in Fremont riders will turn right off of the Burke-Gilman trail onto Phinney Ave N. and continue North towards N. 36th Street. At the intersection of Phinney Ave and N. 36th Street,riders will take a left and continue halfway down the block to LTD Bar and Grill, the midway point, located on the left side of the street at 309 N. 36th Street.
Admission to the after-Party is included in the rider registration fee. The after-Party is also open to the public with a suggested entry donation of $5. Proceeds benefit Seattle's Bike Works non-profit organization.