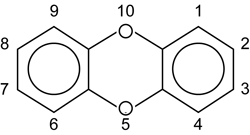 I don't know about you but I've had it up to here with all the dioxins and furans in Fremont these days. I wish they'd just go back to where they came from…
The Washington Department of Ecology is coming this week to see what they can make of them as well when they check out our soil as part of a statewide study.
The Seattle locations include South Park, Georgetown, Ravenna, Capitol Hill, West Seattle, Fremont and Ballard. The goal of the study is to determine the range and amount of dioxins in urban areas of Washington, including some areas in Seattle.

The samples will be taken during March and April. The samples will come from publicly accessible locations on public right-of-ways. No sampling will be done on private property. They don't anticipate any interruption of vehicle or pedestrian traffic.
Results will be shared with neighborhoods at neighborhood meetings this summer.
And because you're now wondering, Dioxins are a group of chemically-related compounds that are persistent environmental pollutants. The less of them around, the better.