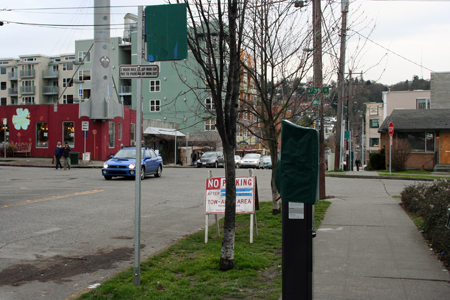 Get used to seeing slightly-higher parking rates in Fremont starting next month.
The Seattle Department of Transportation has announced on-street parking rates for 2011 and those rates are rising. Based on the results of a parking occupancy study, the Fremont parking rates will be going up from $1.50/hour to $2.00/hour.
The goal of the new parking rates is to adjust available parking so that one-to-two spots are readily available on a block at any given time. Right now peak occupancy for Fremont's 80 paid parking spots is 80%. The city would like to lower that to 78%.
Fremont is not, however, one of the nine neighborhoods "with active nightlife and high evening parking demand" that will have paid parking extended until 8 p.m.
The new rates still keep Fremont in the lower bracket of Seattle neighborhood parking costs. Three neighborhoods, including Pioneer Square, will see their rates rise to $4.00. Nearby neighborhoods Ballard and Green Lake will not see a rise in current parking rates ($2.00 and $1.50, respectively).
City crews will begin implementing the new rates as of Feb. 1, rolling them out neighborhood by neighborhood through March 30. New graphics on all parking pay stations will clearly highlight the revised rates, in addition to providing information about other parking rules and how to use the machines.
For additional information on 2011 on-street rates and rules, please visit the SDOT website.