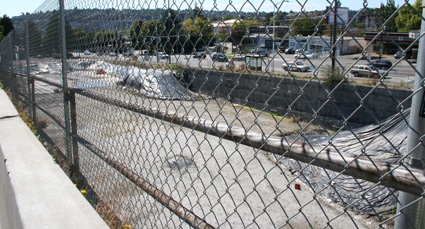 Chances are, you drive past 3920 Stone Way N. all the time and never really appreciate it. That's because for the past four years, there's been nothing there. Actually, I take that back. There's a giant, festering pit that exists there, taking up space (or not taking up space if you like).
Before it was nothing, the spot was a boarded-up Safeway for many years. QFC bought the land and intended to turn it into a new store but those plans never came to fruition.
Now it finally looks like the wheels are in motion to turn nothing into…something.
On Thursday an affiliate of Prescott Homes of Kirkland bought the property, between North 39th and North 40th streets, from the corporate parent of the QFC grocery chain for $8 million, county records show.

The sale to Prescott, which was going to develop the condo portion of the project for QFC, has been in the works since 2007. The Kirkland firm received a new land-use permit from the city last year for a five-story building with 150 apartments, a 15,000-square-foot "multi-purpose convenience store," a 2,000-square-foot restaurant and a 189-stall underground garage, city records indicate.
The purchase has been in the works for some time now.
The only downside to this deal? It kills the dreams of some to turn the space into a gigantic ball pit. Bummer.
H/T: Wallyhood