After nearly 40 years of producing the Fremont Fair, creator and organizer Solid Ground is passing the torch on to the Fremont Chamber of Commerce. 
The 2-day event, which coincides with the Summer Solstice, began in 1972 as a celebration of the Fremont neighborhood and a fundraiser for Solid Ground(then known as the Fremont Public Association) to help fight poverty in this community.  Since then, the organization has grown immensely and they now work to provide support throughout the state.  In an effort to keep the fair rooted in Fremont, Solid Ground Executive Director Cheryl Cobbs says it makes sense to hand over the reigns at this time.
"We did not make this decision lightly – Solid Ground has produced this event for several decades as a way to involve folks in building a better community, while also directly giving back to the neighborhood where we resided.

The event was very near and dear to us, but, given our growth and other fundraising endeavors, this event no longer made sense to remain under Solid Ground's umbrella. We are very excited the Fremont Chamber has agreed to take over all ownership and management of the event moving forward, and we could not have left it in better hands."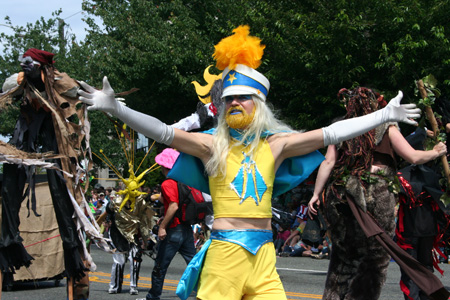 Fremont Chamber President Marko Tubic says they are more than happy and ready to take over organization of the annual event.  A portion of the money raised through the fair will continue to go to Solid Ground. 
"Not only did we want to help ensure this event remains as strong as ever, but with more than 100,000 people attending the event annually, it is an excellent chance to help promote Fremont businesses and draw attention to our eclectic community, which perfectly supports the Chamber's mission. Plus, we will still be able to route funds raised by the event to Solid Ground, as well as other deserving organizations, so it is truly a win-win for all." 
This year's fair takes place June 19-20.  The Solstice Parade, which is produced by the Fremont Arts Council, will remain part of the weekend's festivities.  There will also be plenty of booths, live bands and beer gardens, as well.
The Fremont Chamber is hosting an open house on February 17 from 5:00-7:00 p.m. at the Ballroom (456 N. 36th St) to brainstorm and get input from any Fremont businesses and residents interested in helping to shape this year's event.  There will also be a series of public input meetings down the road.  Any vendors who want to participate in the fair can now apply online.  The application deadline is April 1.  Questions regarding the 2010 Fremont Fair can be emailed to info@fremontfair.org.