The folks at Bold Hat Productions work hard organizing the Fremont Oktoberfest. They arrange for beer gardens (three this year, serving approximately 90 different beers), the Texas Chainsaw Pumpkin Carving (along with encore performances), a kids' area (with Zucchini 500 races), Brew HaHa 5K race and a Brew HaHa comedy show, plus Dog Day Afternoon (including a canine model show and, this year, a Santa's Little Helper look-alike contest). The office staff spends months leading up to the event, this year on September 18, 19 and 20, in preparation but according to Event Coordinator, Kelly Pflugrath, "if we didn't have all those volunteers, this event wouldn't run."
Ultimately, it takes 700 volunteers to stage the Fremont Oktoberfest, and as of September 4, they still needed 125. "Those are 'Definitely Needed' volunteers," Pflugrath admitted, "on some occasions the event can come to a screeching halt without them."
Will Work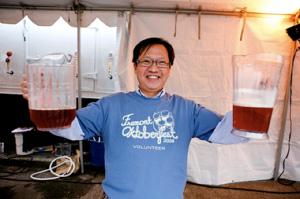 For one thing, the beer won't pour without someone at the spout. Pflugrath also places volunteers as greeters at the entrance booth, "giving a good impression," which can affect the tenor of the whole festival. Volunteers help direct runners along the 5K route and assist with crafts in the kids' area ("they get the fun job, in my opinion," Pflugrath said.) Volunteers provide free labor, and in return they get free admission and a t-shirt.
Yet, a large percentage of volunteer staff return each year, according to Pflugrath. "They have a blast!" and after each event, she fields a flurry of e-mails praising the experience. Also, as she walks the neighborhood throughout the year, Pflugrath has seen people sporting Oktoberfest t-shirts, with the special 'volunteer' designation, "I'm glad they like them."
Volunteers also come from those who attended Oktoberfest in the past, and want to get more involved, those who volunteered at other Bold Hat events, community supporters who want to support Oktoberfest which raises funds for the Fremont Chamber, and, finally, friends of friends who volunteer together, just for fun. "We do some advertising, here and there," Pflugrath admitted. She has sent notices to their large mailing list of Oktoberfest supporters and run ads, in past years, in The Stranger and on Craigslist. "The largest part," she explained, "is word-of-mouth." After all, this is a great insider deal – it's 'Will Work for Beer.'
For Beer, and Fremont
Bold Hat uses software called ShiftBoard to organize volunteers and since incorporating the software, "we've seen a much larger retention of volunteers," Pflugrath said. ShiftBoard sends out automatic reminders, allows volunteers to manage, or cancel, their shifts, accommodates the scheduling of groups of friends, and sends notices to volunteers about next year's event. The software, Pflugrath allowed, does send acknowledgements, but Bold Hat already sends out personal notes of thanks to volunteers.
"We definitely need every person who wants to come down," Pflugrath said. Three days of fun, festival and fellowship – and beer – takes volunteers to happen. To those who give their time willingly to the cause, Pflugrath faithfully swore, "we'll make sure they have a good time!" If you want to be a part of that, check out FremontOktoberfest.com/volunteer. (Photo courtesy Patrick Lennox Wright Photography.)
Columnist Kirby Lindsay has written for The Seattle Press (www.seattlepress.com) and the North Seattle Herald-Outlook (www.northseattleherald-outlook.com) about Fremont, where she has been for far longer than any sane person would manage. For more of her writing, visit her site at www.fremocentrist.com.