After a series of community meetings and heated discussion, the Seattle Department of Transportation has released its final parking plan for Fremont. The following changes will occur in February:
Two-hour paid parking will take effect in Fremont's retail core — a total of about 115 spaces — at a rate of $1.50 an hour.
Time-limit signs will be installed outside Fremont's retail core. Restrictions will be in effect from 7 a.m. to 6 p.m., Monday-Saturday. On some streets near restaurants, time limits will continue until 10 p.m.
Residential parking zone (RPZ) will take effect on streets north and east of the business district. RPZ signs will be installed on one side of residential streets (the other side will remain unrestricted) with 2-hour parking allowed from 8 a.m. to 8 p.m. for non-permit holders, and from 8 p.m. to midnight with no non-permit holder parking allowed. The RPZ will be in effect Monday through Saturday.
The "retail core" is a rather concentrated area that encompasses the absolute center of Fremont — 115 parking spaces out of a total of 700. This popular area along 35th St. by the Rocket will be paid parking: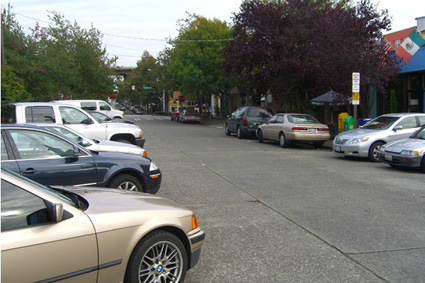 But go one block to the west, and it's free with time limits. Here's the map (.pdf) that outlines the specific zones and provides more details. Beginning in a couple weeks, eligible residents will receive RPZ permits in the mail. In January, sidewalks will be marked where paid parking kiosks and signs will be installed. In February, the installation begins.
As we've been reporting, the Fremont Chamber of Commerce has fought the plan all along with its Keep Fremont Free campaign, generating an outpouring of support from local businesses. So what do you think, will paid parking help or hurt business in the retail core?