Many folks may have heard from the various organizations they participate with or donate to about today's Seattle-wide fundraiser, GiveBig. The Seattle Foundation, a community foundation whose mission is "to foster powerful and rewarding philanthropy to make King County a stronger, more vibrant community for all" puts on this annual event.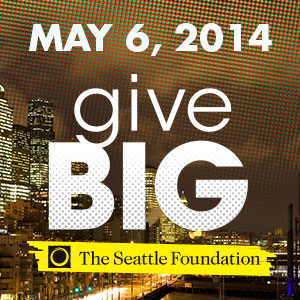 GiveBig is a one-day (May 6th this year) charitable giving event conducted completely online and benefitting over 1,600 nonprofits in the region. Why not just donate to the organizations? For each donation (up to $5,000 per individual) made before midnight tonight to a non-profit, that non-profit will receive "a prorated portion of The Seattle Foundation's matching funds, or "stretch pool." The amount of the "stretch" depends on how much is raised in total donations on GiveBIG day." Donors also have the option to donate directly to the "stretch pool" if they aren't sure which organization to contribute to.
The "stretch pool" has a limited amount of funds (depending on how many donate) so the amount the Seattle Foundation matches varies. In 2013 the "stretch pool" grew from $850,000 to $1 million over the course of one day! Along with organization-specific donations the online campaign generated $11.1 million in contributions last year.
Some Fremont-area organizations participating in GiveBig are:
Fremont Community Therapy Project
APRIL Small Press and Independent Literature Festival
Literacy Source (previously written by Fremont Universe here)
Solid Ground (formerly the Fremont Public Association)
There are hundreds of other wonderful organizations listed in the Seattle Foundation's Giving Center. Many of these are grouped into categories such as Basic Needs, Neighborhoods & Communities, Environment, and (probably a Fremont favorite) Arts & Culture.
Whether it's giving to your favorite non-profit, one you just learned about, or contributing to the "stretch pool" let's all GiveBig today!