While the rest of the country celebrates our country's independence this weekend, Seattle honors its dead – its walking dead – in the second annual Red, White & Dead event. Seattle can lay claim to the "Zombie Capital of the World" once and for all in the "Dead" Center of the Universe.
This is your warning to NOT be freaked out by the sometimes very convincing zombies that will take over Fremont on Saturday by the thousands. Yeah, that's right – enough for 3 "Resident Evil" movies! The goal is to outdo the Brits, who hold the zombie walk Guinness World Record through the Big Chill Music Festival in England.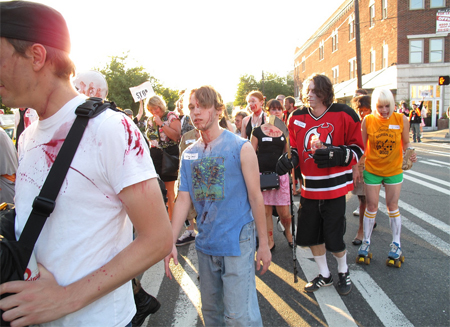 "Look out British, the Zombies are coming!" said Eric Pope of Seattle Zombie Walk, a group that helps organize the walk. "Seattle had 3,894 zombies turn out last year for the walk to set a record, but England later edged us out with 4,026. We're back to reclaim the title, and I hope to see 10,000 zombies roaming the streets, so Seattle will hold the title for good!"
From noon to midnight Saturday at Fremont Outdoor Movies (3501 Phinney Ave. N.), there will be an attempt to beat Guinness Book of Records with most "zombies" in one location. 3,575 are expected, but as Pope mentioned, the record could be broken – again.
From 5 p.m. to 8 p.m., zombies will dance and walk on sidewalks in Fremont, with North 35th Street closed from Phinney Avenue North to First Avenue NW.
Pre-register online for $3, or pay $5 at the door.
In addition to the attempt at the record and the shuffling dancing and walking that goes with channeling zombie, this year's festivities will also include a huge Thriller Dance, Zombie fashion show, musical performances, special guests and all time Zombie classic, George A. Romero's DAWN OF THE DEAD. And more: a blood drive, canned food drive and a portion of the proceeds will be donated to the local non profit organization, the Seattle International Film Festival in support of their new film center that will be at the Seattle Center.
From Fremont Outdoor Movies:
This year also marks the "Year of the Zombie" and Seattle seems to be the center of attention, as 2010 marks another first for Seattle with ZomBcon, the world's first Zombie Culture Convention infecting Seattle on Halloween weekend at the Seattle Center and Experience Music Project with over 100 Exhibitors, 10 interactive fan workshops, panels, a SIFF-curated film series, and Halloween Masquerade , Zombie Prom party. We plan to have a collection of experts, authors, filmmakers, historians, celebrities and all the gear and fan fare for the Quintessential Zombie fan.
We'll be there, and we'll post the gruesome photos here on Fremont Universe.