Or should we say Trolloweentown? Halloween festivities begin in Fremont this evening and we've got a complete round up of the great events:
Thursday 10/30
Nectar Lounge plays host to the "Steam Funk Halloween Ball" featuring Afrobeat/Funk music including performances by: Chicago Afrobeat Project, Cascadia '10, and the Braxmatics. Cost is $12 at the doors, 21 and over.
Across the street at the High Dive, Marmalade will feature a Halloween Edition of their "weekly blend of Soul, Funk & Groove." Cost is $6 at the doors, 21 and over.
Friday 10/31 (Happy Halloween!)

Things get kid friendly with
Trick or Treat in Fremont
! A ton of local businesses will be participating and ready to handout candy to Trick-or-Treaters from 3-6pm. Organizers ask that Trick-or-Treaters be:
A child
Dressed in a costume
And accompanied by an adult (please no adults in masks)
You can also Trick-or-Treat at the zoo! The animals get pumpkins too!
From 9:30am-3:00pm Woodland Park Zoo hosts a family-friendly Pumpkin Bash where you can "discover a repertoire of animal behavior as hippos, bears, elephants, monkeys, and other animals crunch, smash or stomp on pumpkins!"
Have fun kiddos!
In the evening things will be bustling again with these events…
Fremont's Freaky Halloween starts at 8pm in participating bars. Each bar has drinks specials and a costume contest. From those winners one winner will be crowned the best costume in the Center of the Universe and win $500 in gift cards! See flyer for more information: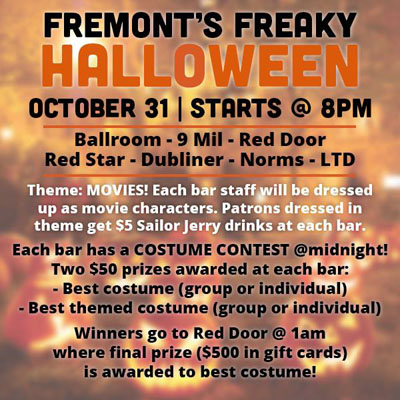 The Bonza Bash Halloween 2014 Masquerade Costume Ball will be held at Fremont Studios from 8:30pm- 2:00am. For more information about this classy costume affair (complete with classy prizes!) visit the event website.
The High Dive hosts The Zombie Prom: 80's Invasion All Night (costumes recommended) kicking off at 9:30pm, Tickets $8.
There will be some "Halloween Mayhem" at the Barrel Thief from 8:00pm until 1:00am. Please note there is free admission for monks (just in case you haven't settled on a costume) Check out the flyer for all the planned chaos:
Join the Backdoor at Roxy's for a costume contest, dancing, and screening of the Shining:
Salsa con Todo hosts a Halloween Salsa Madness Dance Party! Starting at 10pm there will be "Pumpkin Pie! Cider! Scary Movies, Live Music by Vassili and Arturo! Social Dancing till you drop…dead!" Cost is $10 at the door.
And of course we can't forget, Troll-o-ween! The annual celebration is put on by the Fremont Arts Council to celebrate the Troll's Birthday.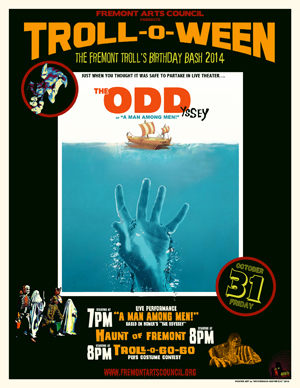 This year's Troll-o-ween begins at 7pm at…you go it, the Troll! There will be a live performance of "The ODDyssey." At 8pm the Haunt of Fremont will be a parade of Fremonsters in all manners of attire along N 36th Street turning down Phinney before heading back East along N 35th Street. The Haunt will close these streets temporarily.
The celebration will continue at the Doric Lodge and at 10:30pm the costume contest kicks off.
No matter your plans this Halloween Fremont offers plenty of opportunities to march through the streets, dance the night away, and of course a chance to show of your most creative costumes.
Happy Halloween Fremont!

Have fun this Friday and be safe!