Fremont Oktoberfest is happening tonight!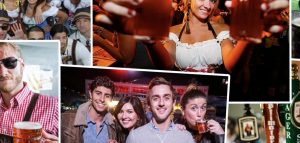 Here are some of the guidelines, straight from the horse's mouth:
Here's what you need to know: 
Fremont Oktoberfest requires a ticket and is 21+ EVERY. SINGLE. DAY.
No kids. No babies. No exceptions.
Dogs are welcome (and encouraged!) to join you on Sunday Only.
Read on because we are about to school you on how to do Oktoberfest, Fremont style. For real, this is the best page to read on the whole website.
WTF ARE THESE TASTING TOKENS YOU SPEAK OF?
Tasting Tokens
Plastic tokens are included in General Admission (5 tokens) and Grand Admission (10 tokens), and are used like money to purchase tastes of beer with your 5 oz mini-mug, which is also included with your admission. Each token is good for one fill-up of your mini-mug. Got it?
How to Use Them
We have over 100 seasonal beers to taste, so explore the Beer Lineup, find beers you want to try, give the volunteers your mini-mug and a token, and you're all set.
Worried About Running Out?
Oh no, out of tokens?? Don't panic, you can buy more at our Merchandise Booth.
WHAT'S UP WITH THE MINI-MUG?
Mini-Mug
A 5 oz commemorative acrylic mini-mug is included with General Admission and Grand Admission.
How to Fill Up Your Mini-Mug
We have 100 seasonal brews to choose from inside of the festival. Decide what you want to try, give the volunteers your mini-mug and a token, and they'll fill you up.
Don't Forget
Tastes add up — don't be deceived by its small stature, the mini-mug packs a punch (in the face).
WANT TO GO BIG?
Buxom Steins
5 oz not enough? No problem. We have larger options available for purchase in the Buxom Beer Garden:
Full-liter steins – $20, $10 refills
Full-liter boots – $25, $10 refills
Sweet – How Do You Go Buxom?
Purchase your Buxom options in the Buxom Beer Garden. Pay separately with cash or card. Remember, Tasting Garden admission is required.
What if You Only Want the Buxom Stein?
Already know you don't want the mini-mug? We know your type. Skip the tasting and purchase our Festival Only Admission (entry only with no tasting tokens), then go straight to the Buxom Beer Garden for your Buxom stein options.
Don't Forget
Buxom steins can only be filled in the Buxom Beer Garden; you will need a mini-mug to enjoy tastes elsewhere in the Tasting Garden. Easy, right? And if you change your mind, you can always buy a mini-mug and tokens at the Merchandise Booth.
GASP — YOU DON'T WANT TO DRINK BEER?
Don't worry, we have ciders and wine available too.
ARE YOU A DOUBTER? ("REALLY $25 FOR 5 TOKENS?")
It's okay, sometimes you just need it spelled out for you. Here you go…. $25 gets you the equivalent of two beers at the bar, plus live music, partying in the streets, over 100 beers to choose from, and drinking for a good cause. AND…. when you get your second wind, it's $5 for three more tokens, which translates to $5 for a full beer. That's a pretty good deal for microbrews. So take that.
Still feeling cheated? Fine, have a promo code for two extra tokens on us – enter SKEPTIC when you purchase tickets online.
Have more questions? Check out the FAQs.