UPDATED 2/21/15
Readers brought to our attention the misstatement that Brad's Swingside Cafe closed earlier in February. We misinterpreted a schedule of events and apologize to readers and the Swingside Cafe for this mistake. As of this update the Swingside Cafe is still open and accepting reservations. We are still awaiting confirmation of a closure date but Seattle Weekly reports: "Closing events, and concerts through March 1 (or thereabouts)."

We have updated the original post to correct our error. Thank you. – Cara, Editor.
Brad's Swingside Cafe will be closing this year after 25 years. The restaurant's location will be replaced with apartments or condos following the sale of the property by owner Brad Inserra. The Cafe's grand finale includes ongoing jazz events and highly prized dinner reservations. As a Fremont favorite, the Cafe's imminent closure and unique career was featured in several Seattle news sources shown below.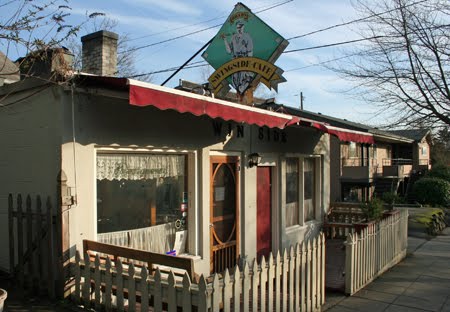 "Arrivederci, Baby: A Fond Eulogy for Brad's Swingside Cafe"
by Roger Downey, Seattle Weekly
"Brad's Swingside bids farewell with jazz blowout"
By Paul de Barros, The Seattle Times
"Brad's Swingside Cafe to Shutter After Almost 25 Years"
By Sara Billups, Seattle Eater
"Saying A Slow So Long to Swingside" 
by Kirby Lindsay, Fremocentrist.com